Special Offers in the Commemorative Year 2022
WE CELEBRATE THE 375TH YEAR OF MERIAN'S BIRTH
When we started planning for the 375th anniversary of Merian's birth in the final months of 2021, it was already to be feared that Corona infections would still be quite high in 2022. Therefore, we concentrated on activities in which all the precautionary measures and rules stipulating safe distance could be observed. Hence, events involving a personal presence, such as the workshops in the Nuremberg Children's Museum, took place only under supervision, after checks and with very limited numbers of people.
We were amazed to discover that, in addition, we can contact many people near and far with offers that do not require a physical presence or a fixed time scale: Merian's letter cards can be written whenever a suitable occasion presents itself, a walk can lead past a meadow of flowers when the weather suits, and so on. In addition, we not only celebrate Merian with our ideas locally in Nuremberg, but also receive additional feedback via the worldwide web.
12 Months with Merian in Homes and Offices
The dedicated owner of the small publishing house in Berlin to whom we owe the new edition of the Caterpillar Books offered a wall calendar for 2022 showing off beautiful works by Maria Sibylla Merian. The calendar price in bookshops was 22 €. Our generous ally in Berlin sent us all the remaining stocks from his own warehouse in good time before the beginning of the year. We had only to refund his own costs and were allowed to distribute these calendars at a small "nominal fee".
We also took advantage of special prices in the mail-order business. In 2022 several hundred calendars are hanging in offices and private spaces in Nuremberg. At the beginning of each month people get to know "a new side" of Merian when they turn the calendar page to the next month. This connects us with our friends all over the world, since such calendars were frequently given as gifts to relatives and friends in Germany and abroad.
Letter Cards as our Attractive Giveaway
The 5,000 notecards that the same Berlin publisher, the Favoritenpresse, donated to us in 2021 because he was very pleased with the commercial success of his book were quickly out of stock. In 2022 we were able to have another 7,000 cards printed with the aid of a small grant from the city of Nuremberg (Agenda 21) so that we could give them away in Merian's 375th birthday year.
They are often sent as small letters with personal texts on the blank inside pages, e. g., as birthday or festive greetings. Due to Merian's coloured copperplate etchings on the front page and the reference to the extraordinary new publication of her Caterpillar Books on the back of the card, these masterpieces, together with their creator, are becoming increasingly well-known and popular in Nuremberg and other places around the world.
Wonderful World of Insects
Merian Workshops
for the 375th Bitrhday in the Nuremberg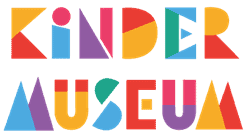 1647 + 375 = 2022
Workshops for the Youngest Merian Fans
At many points in the exhibition "Schatzkammer Erde" (Earth: A Treasury) in the rooms of the Children's Museum young visitors and their adult companions were invited to learn about various insect species in vivid detail. They could let them crawl over their hands or take a closer look at them under the microscope and paint pictures inspired by those of Maria Sibylla Merian. It was even possible to visit the Museum's rainforest house and its creatures. In the colourful museum garden, created to be as close to a natural habitat as possible, nesting boxes for insects were constructed and paper was made by scooping pulp out of a special liquid in a large barrel.
In addition, everyone learned more about Merian's special connection with Nuremberg's history and how she, as a great naturalist, undertook intensive study of many different insects here. The demand was so high that a fifth workshop was offered at short notice.
A Birthday Meadow as a Gift from the City of Nuremberg
Suggested by the Third Mayor of the city of Nuremberg, Christian Vogel, in autumn 2021 a large, circular, wild-flower meadow was sown by the Servicebetrieb Öffentlicher Raum (Parks and Garden Services) in honour of Merian and bloomed in many colours in spring 2022. This new meadow, near the Friedrich-Ebert-Platz and within sight of the Nuremberg State Archives, is a particularly suitable new place of remembrance. This Archive is an important institution which contains finds relating to Merian's life: there official documents and the unique plan showing the detailed infrastructure of the Labadist estate in Frisia where Merian lived for several years with her daughters and her mother are made readily available to be studied for research.
Difficult conditions for the establishing of a new flower meadow by the BUND Naturschutz (Federation of Nature Conservation)
The local group of these nature conservationists in Kornburg had planned to lay out a Merian flower meadow in spring 2022 as a project of their own. This addition to the large-scale biotopes in this region to the south of Nuremberg was intended as an attractive birthday present for Merian and for the many insect species still living there. Everything was carefully prepared through painstaking manual labour and the use of heavy equipment. However, the sudden and severe effects of the extremely hot, dry summer in 2022 prevented the seed from germinating.
In autumn 2022 a new attempt was started to bring the flower bed to life with many different undemanding herbaceous perennials, annual meadow flowers and wild shrubs. We also see the garden as an arena for experimenting in the design of flowering areas under the dramatically different conditions of climate change. Certainly, new species will move in alongside the old familiar ones. Click on "Consequence" for the first findings.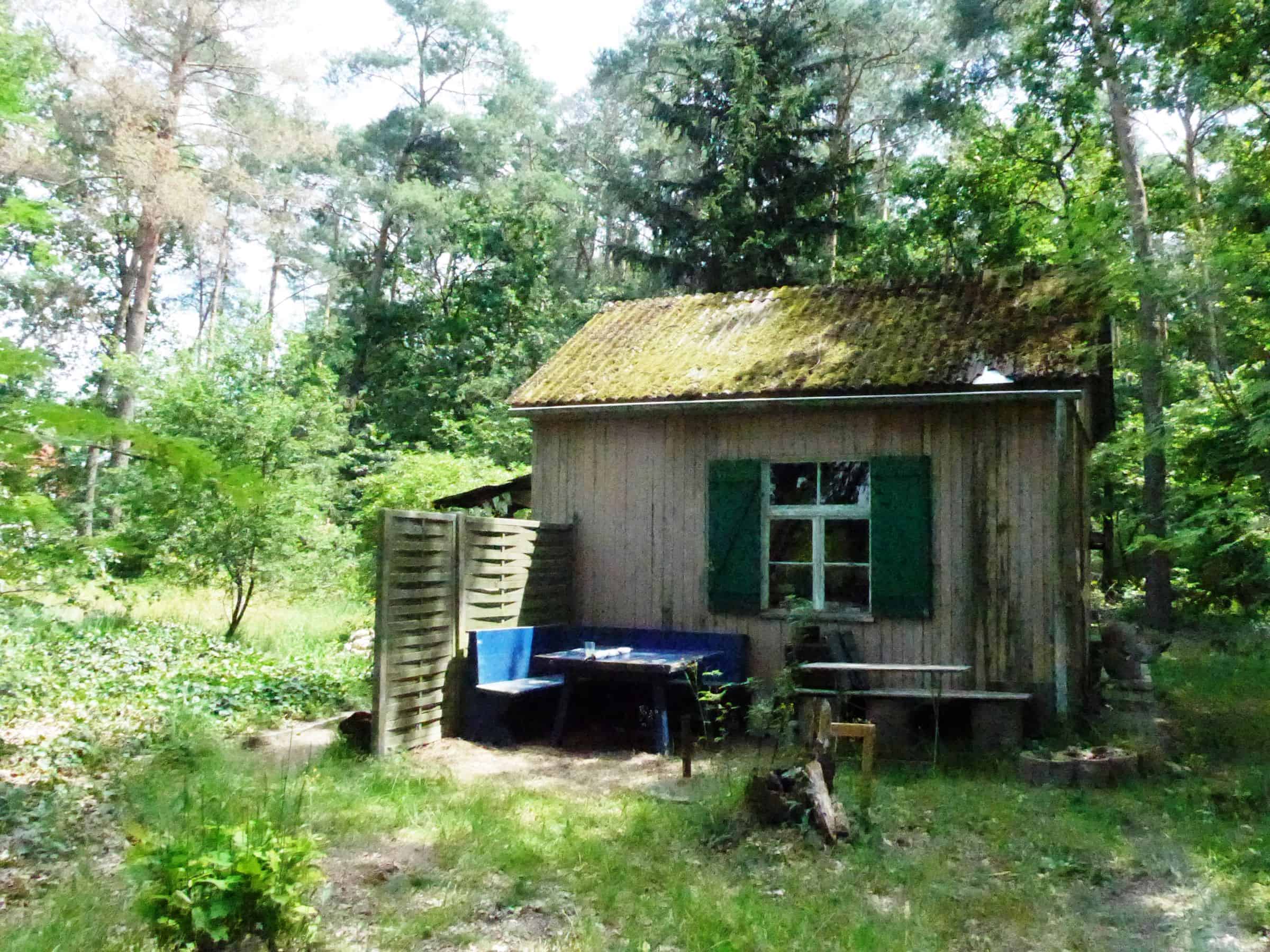 Merian Cottage
(Photo: Dieter Lölhöffel)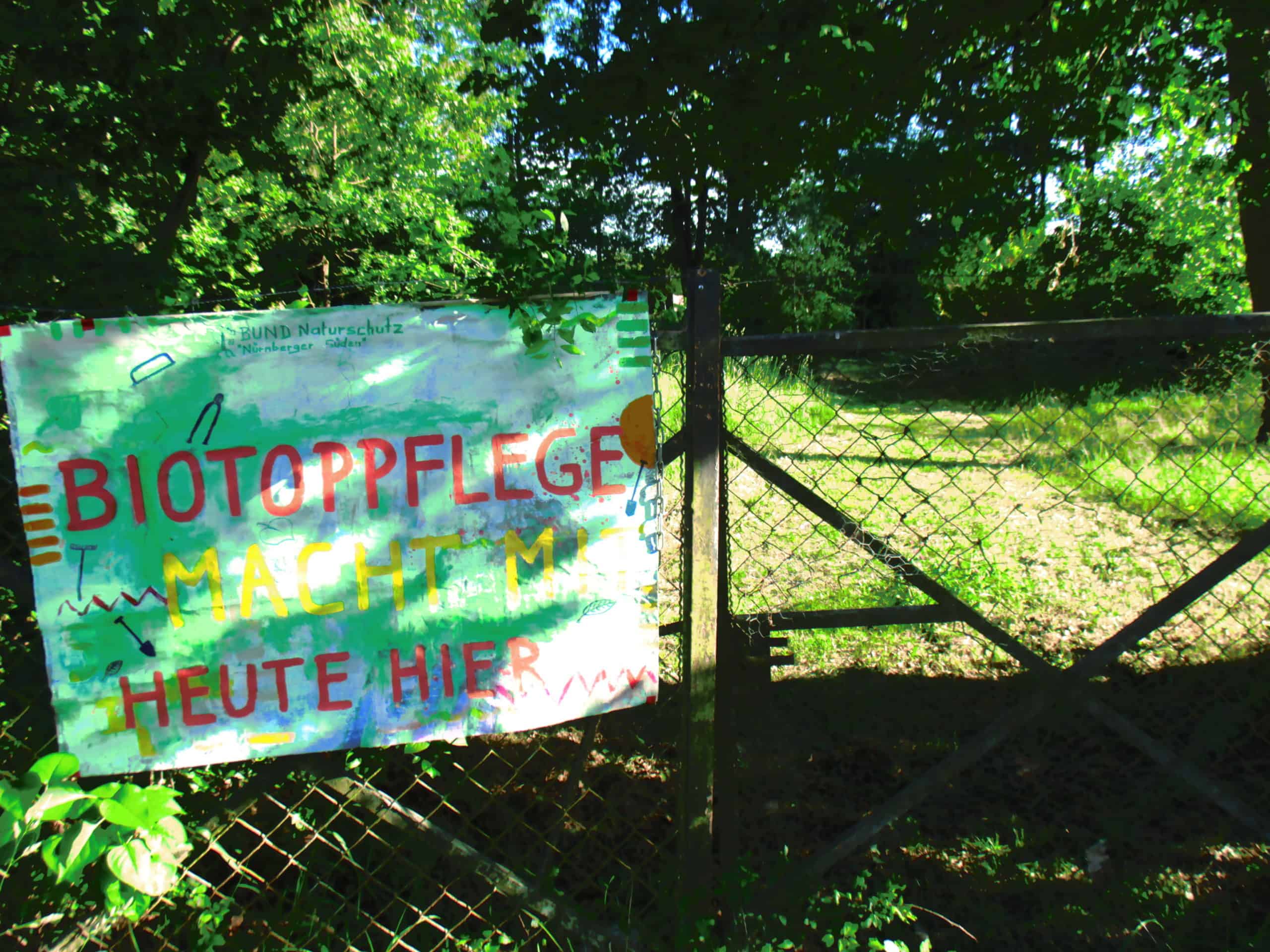 Entrance to the biotope in Kornburg
(Photo: Mona Krumbach)
Hands-on Learning
PROJECT OF THE MERIAN-SCHOOL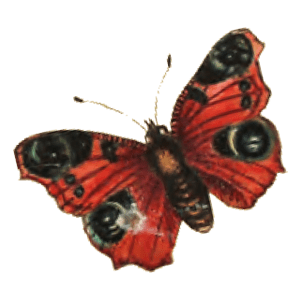 On the occasion of the 50th Jubilee of the MERIAN School, our pupils from all classes focused intensively on the work and life of our patron Maria Sibylla Merian. The older pupils visited the "Meriangarten" at the Kaiserburg in Nuremberg and were impressed by Merian's former home. They were particularly fascinated by the detailed drawings of caterpillars, butterflies and flowers that the artist made during her time in Nuremberg when she was investigating nature.
Already in spring 2017, Merian pupils and their teachers together with BUND Naturschutz, Mr. and Mrs. Lölhöffel and SÖR (municipal service company for the public Space) had planted a Merian bed in the medical herb garden at Hallertor. When they met again in the garden, the pupils and teachers expressed their wish to provide with their own school garden an even better habitat for insects and butterflies.
During a project day in April, a butterfly bed, our so-called "Merianin Beet" was planted with various herbs and nectar plants that can positively support the healthy development of the butterflies. We received active and financial support from the company Novartis. We also used brochures and literature to find out which butterfly species and moths are indigenous here to our region.
At the same time, our first year students dealt comprehensively with the topic "Metamorphosis: from caterpillar to butterfly". The development of a caterpillar into a butterfly was worked out in a playful way with pictures and signs from the book of Aid for Augmentative Communication: "The Always Hungry Caterpillar" as well as singing the song with the same title. . Pictures of the development stages were pasted into worksheets.
In art lessons, the pupils created colourful caterpillars and butterflies from a variety of materials. In the school garden, they seeded a butterfly meadow. Fortunately, we got the opportunity at the beginning of June to take part in an environmental education programme with Mr Mümmler. He came to class with real eggs and caterpillars of thistle butterflies and with illustrative models. The caterpillars remained in a container with food paste in the classroom. This allowed the pupils to observe the development of the caterpillars "live" in their classroom over several days until they developed into complete thistle butterflies. Due to the warm temperatures, the butterflies even hatched a few days earlier than expected. Of course, these butterflies were finally released into the wild in the school garden.
The enthusiasm of the Merian pupils for these projects was still evident weeks later. On excursions and forest walks, they scanned their surroundings like "detectives" and eagerly kept an eye out for these fascinating creatures.
Text: Silke Probst (supervising teacher at the Merian School in charge of this project)
Merian Bed at Hallertorzwinger
BUTTERFLY AND INSECT BED
Zum Jubiläumsjahr von Maria Sibylla Merian hat die Kreisgruppe Nürnberg des BUND Naturschutz zusammen mit der Merianschule im Jahr 2017 im Heilkräutergarten am Hallertor ein Schmetterlings- und Insektenbeet angelegt. Neben Nektarpflanzen für die Schmetterlinge wurde vor allem an Fresspflanzen für Raupen gedacht. Während die erwachsenen Tiere meist nicht wählerisch bei der Nahrungssuche sind, haben sich Raupen oft stark spezialisiert. Würde man zum Beispiel die meist unerwünschten Brennnesseln ausrotten, dann hätten es solch schöne Falter wie das Tagpfauenauge und der Kleine Fuchs sehr schwer. Denn ihre Raupen fressen fast ausschließlich an Brennnesseln.
At the inauguration ceremony of the Merian Bed, a wonderful cooperation between the Bund Naturschutz and Margot Lölhöffel was initiated, who has long been following in the footsteps of Maria Sibylla Merian in advocating for our butterflies and demanding more habitat for them. Her Merianin 2018+ project began to grow.
This model bed was planted in 2017 by Bund Naturschutz (BN) Nuremberg with its medicinal herb garden project group, with its "BN-Interkulturell" working group and its Forum International together with the Nuremberg Merian School.
Fluttering and buzzing guests are attracted here for a stopover thanks to suitable plant species.
The city of Nuremberg welcomes the initiatives for insect-friendly plantings and is examining in its own areas of public green spaces where butterfly meadows could be planted.
The city of Nuremberg had already created an exemplary area with an insect realm (called "InsektenReich") in the Volkspark Marienberg and could be convinced to keeping the needs of butterflies always in mind for further facilities.
The Environmental Station and the Children's Museum offer special projects for school classes.