Seven Steps to Graff's Difficult Divorce
END OF THIS MARRIAGE IN COUNCIL DOCUMENTS
Maria Sibylla Merian has definitively drawn a line under her marriage as "Frau Gräffin" at the Waltha Estate in Friesland. Among the Labadists, marriages were only recognised if both spouses if lived on the Estate together. Since Graff was not accepted into the community, the situation was clear for the members of the community: the marriage no longer existed for them.
The title copper print of the First of Caterpillar Book reveals, subtly but clearly, how Maria Sibylla became more and more independent after the breakdown of her marriage. On the lower mulberry branches on the copper plate two words were erased because they recalled the period when she was married: no more "Gräffin" and no more "geb." (née) since she had adopted her maiden name again. Later still her name was shortened to "Merian" (without the "in"), because in Amsterdam female endings on the family name were not usual for women. (1)
A notarial deed of 1699 recording a new will, drawn up before she departed for Surinam, shows how important this independence was for "Mrs Merian". In it she had herself referred to as a "widow", although Johann Andreas Graff was still alive. (2)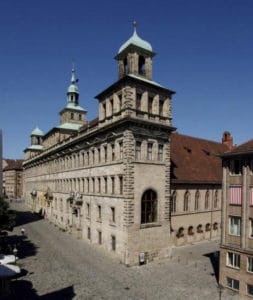 West Façade of the Town Hall, built 1616-1622, five Decades before the Graff-Merian Family moved to Nuremberg
Photo: Christine Dierenbach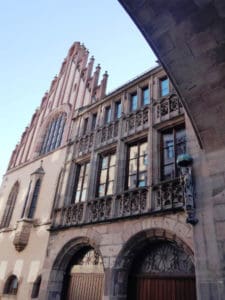 East façade of the "Old Town Hall", detail showing windows of the Council Chamber, the then political and administrative centre of power in Nuremberg
Photo: Dieter Lölhöffel
However, for a long time Graff could not bring himself to accept the breakdown of his marriage. He sought contact with his wife's legal advisor in Frankfurt (1688). Even the legal advisor of the city of Nuremberg intervened in support of Graff. In 1690, about four years after the deeply religious Labadist community in Waltha had rejected him, Graff wrote an extremely long letter to his wife's legal counsel in Frankfurt. On three densely written pages, which are preserved in Frankfurt University Library, (3) we can still read how desperate he was and how very worried about his younger daughter, who lived with the strict Labadists. However, all his efforts were in vain.
In his case, Nuremberg Council was responsible for all divorce proceedings in the city. At that time there was no higher authority which could enforce binding divorce for both partners in the marriage. Nuremberg was a city state with its own jurisdiction and his wife lived in a "foreign country" (the Netherlands) far away.
Without a legitimate separation from his wife, Graff could not remarry. On the one hand, as an honourable citizen he needed a new wife to run his household; but, on the other hand, divorce was a rare and complicated procedure at that time. In Nuremberg it was continuously controlled by the Council as the highest judicial authority.
It was not until 1692 that Graff tried to find a way out of his difficult situation by submitting a petition for divorce to Nuremberg City Council. This application was granted in a "Ratsverlass" (Council decree) and referred to the competent marriage court. A complicated procedure began, which was continuously monitored by the highest Council body in Nuremberg.
So far, it has been possible to locate a total of seven statements by the city government in the minutes of their meetings. They record the course of the proceedings: (4)
1. Graff's application for a divorce was accepted (18 August 1692)
2. Expert reports by two legal consultants, the official legal advisers to the City Council, were commissioned and later discussed in the committee of the "Senior Gentlemen" (19 January 1694)
3.-5. Contact was made with Amsterdam three times, in order to inform Mrs Graff about the proceedings and to request her response (20 February, 1 and 31 March 1694). However, this did not materialize.
6. When the extended deadline passed without a response, the legal advisers were consulted again (11 April 1694)
erneut befragt (11.04.1694)
7. Only then was the decree granting divorce officially "published" in Nuremberg and Amsterdam (30 May1694).
Legal opinion at the time was completely on Graff's side and against his "wife, who had eloped to the Labadists". Nevertheless, in this case, too, the Council wanted to follow its own maxim and hear both sides, even if the other side was (only) a woman. Through its good connections in Amsterdam, the Council tried to contact "Mrs Graff": But she did not reply. Therefore, the proceedings stretched out even longer and it took more than 21 months for the divorce to become final in the following wording: "According to the report submitted by learned expert counsellors, the decree granted in the case of Johann Andreas Graff vs his disloyal wife by the most honourable city and marriage court shall be published."
On 10 June 1694 the banns for Graff's new marriage were publicly announced and two weeks later he could finally get married again. His second wife, Anna Maria (1666-1711), was thirty years his junior. As the daughter of the colourist Hoffmann, (5) she may even have collaborated on some of his "old-coloured" etchings, which were produced by Kraus in Augsburg after Graff's drawings and taken to Nuremberg to be illuminated.
Decisions by Nuremberg City Council
IN THE HISTORIC COUNCIL MINUTES