Now It's Your Turn!
TIPS FOR INSECT-FRIENDLY OASES
Join us and create a habitat for our butterflies and other insects. The insects are not only beautiful, but also fulfil an important function, such as pollinating plants.
You only have a small balcony or windowsill?
That doesn't matter. Even a few pots of herbs already provide food.
You have a small (front) garden?
That's even better, of course. Throw out the stones and give yourself and our insects a treat - flowering plants. Put native plants between your beautiful cultivated shrubs with their double flowers. Native plants don't take much work because they are adapted to our conditions. Plus, they are often more digestible for our butterflies. Packets of seeds can also be purchased at the offices and stores of the BUND Naturschutz.
Your neighbours think the "weeds" in your garden are messy?
Explain to them that such flower beds are very important for insects. Perhaps your neighbours have also already heard about insects dying out worldwide. Mrs. Lölhöffel has also had a sign designed especially for uncomprehending neighbours, which you can stick into your flower bed and which proclaims: This bed is something very special. It is a Merianin bed and was planted for our butterflies.
You can find more information in our brochure Merianin 2018+: New habitat for insects.
Housing shortage for insects
and their family planning!
WE ARE SEARCHING FOR
untidy corners in gardens
and open spaces – small or large –
as asylums for insect offspring
with plants as food for caterpillars,
sand pits for mining bees,
brushwood piles + deadwood piles
+ piled up stones
for other bees + moths + beetles.
All nursery asylums are helpful!
Merian & her team
Good planning helps at the beginning
A QUESTIONNAIRE AND RECOMMENDATIONS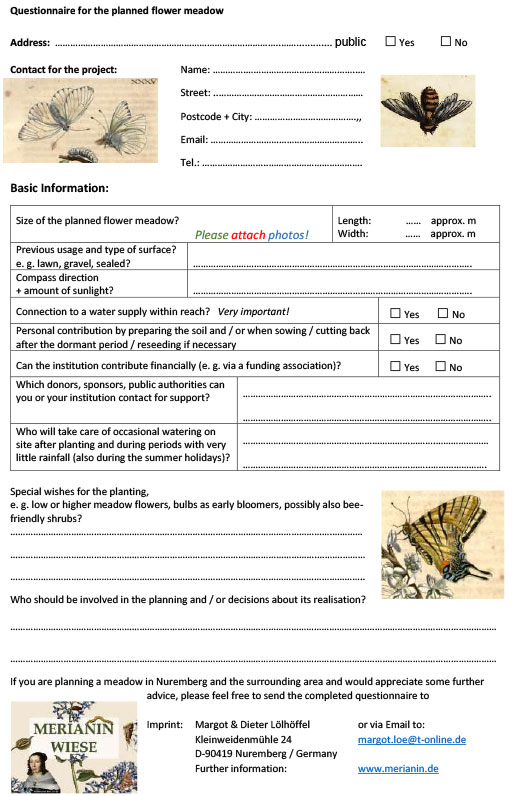 Due to rapid and disastrous climate change, in recent years it has become increasingly difficult to grow new flower meadows. On one hand, periods of drought prevent the seeds from germinating. On the other hand, storms that are often only short but too violent can wash away a great deal of soil together with germinating seeds.
A thorough evaluation of areas – such as monotonous green spaces or wasteland – which you wish to revitalise as flowering areas is therefore absolutely necessary. Our questionnaire, which you can download and fill in, is meant to help you with this.
Tips for flower meadows
Insect-friendly plants grow well in soil that is poor in nutrients. If necessary, sand should be mixed into the soil. In a quiet corner of the garden, plant an appropriate selection of garden plants and wild plants. Nibbled leaves will not do any harm there, but show that insects live there that are now often threatened by extinction.
Recommendations for your environment
If you cannot transform your own spaces, we recommend that you should nonetheless start taking action in your neighbourhood. This website contains many suggestions on how you can motivate the owner of the apartment building where you live or the management of the company where you work to transform outdoor spaces from dull lawns into colourful flowering areas. Get involved when it comes to public spaces, the verges of tram lines and sports facilities, school playgrounds, kindergartens!
Many ideal sites for small insect and butterfly gardens are still unused. Even undemanding wildflowers and herbs in pots and containers on sealed surfaces and balconies are attractive for butterflies. Water tanks at the bottom of the containers significantly reduce the work required for watering. Thus, many bleak corners can still be revitalised by simple shrubs or summer flowers being sown.
Surviving in winter
Some moths overwinter in cellars or attics, but also outdoors, e.g., in walls covered in dense ivy or other climbing plants on the house wall. If possible, build up piles of stones and brushwood for overwintering in a quiet spot in the garden.
Host Plants = Forage Plants
EDIBLE NURSERY FOR CATERPILLARS
In general, for butterflies to settle anywhere at all, they need "host plants" on which they can lay their eggs. When the caterpillars have hatched, these become their "food plants" on which they pupate. Sometimes they are so voracious that only thin stems remain, but as compensation for this small loss, the new butterflies unfold their wings.
Many species have specialized.
"Delicious" food plants for butterflies:
Große Brennnessel (Urtica dioica) – Tagpfauenauge (Aglais io)
Kleine Brennnessel (Urtica urens) – Kleiner Fuchs (Aglais urticae)
Brombeere (Rubus fruticosus) – Grüner Zipfelfalter (Callophrys rubi)
Wilde Möhre (Daucus carota) – Schwalbenschwanz (Papilio machaon)
Stockrose (Alcea rosea) – Malven-Dickkopffalter (Carcharodus alceae)
Rotklee (Trifolium pratense) – Rotklee-Bläuling (Polyommatus semiargus)
In larger gardens and open spaces
alder buckthorn (Frangula alnus) – holly blue butterfly (Celastrina argiolus)
red currant (Ribes rubrum) – comma butterfly (Polygonia c-album)
hawthorn species (Crataegus spec.) – black-veined white butterfly (Aporia crataegi)
Wild hedges, e.g., with sloes, are visited by more than 120 butterfly species.
Some of these "host and forage plants" are presented here.
Nectar Plants = Food Resource
ABSOLUTELY VITAL FOR BEES, BUTTERFLIES ETC.
Most butterflies live on nectar from flowers. Colourful flower meadows, native wild plants and herbs are ideal.
Tip: Only simple, single flowers are suitable. Large, showy, exotic flowers attract very few.
Bees have a noticeably shorter sucker proboscis than butterflies. Flowers with flatter calyxes should therefore also be planted for them. If possible, spread flowering periods over the whole summer, including early spring-flowering plants. Butterflies only survive in areas free of poisons and pesticides. Choose a very sunny spot for the butterfly bed.
Tempting nectar plants
Besenginster (Cytisus scoparius)
Nickende Distel (Carduus nutans)
Blühender Efeu (Hedera helix)
Große Fetthenne (Hylotelephium telephium)
Königskerzen-Arten (Verbascum spec.)
Lavendel (Lavandula angustifolia)
Duftveilchen (Viola odorata)
Wilde Malve (Malva sylvestris)
Kelch-Steinkraut (Alyssum alyssoides)
Thymian (Thymus vulgaris)
Wasserdost (Eupatorium cannabinum)
Schlehdorn (Prunus spinosa)
Echtes Labkraut (Galium verum)
Oregano (Origanum vulgare)
Kartäusernelke (Dianthus carthusianorum)
Echtes Johanniskraut (Hypericum perforatum)
A popular shrub is the Butterfly Bush (Buddleja davidii). However, amongst the shrubs you plant you should also plan for native species that do not, like this one, only provide food in summer.
How to Organise Themed Events
Making Gardens and Green Spaces More Insect-Friendly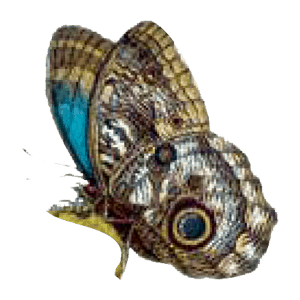 "Each flower counts." This slogan brings together members of the public to exchange ideas and plan activities. Insects, bees and butterflies – we all are well aware that a lack of these humming and buzzing creatures as well as the absence of wild flowers indicate a threatening, devastating imbalance in our natural environment. Information events are a great way of motivating citizens to become active and involved.
Hints on how to organise information events
to involve a broad spectrum of civic institutions, private individuals, clubs and associations in order to stimulate synergies and possibly form action alliances.
Using a figurehead like our ambassador Maria Sibylla Merian proves to be personal and inspiring.
Wherever possible try to plan concrete follow-up activities, e.g. communal re-planting activities in nurseries, community centres, on open and neglected sites.
Cafés with home baking create a pleasant atmosphere and attract many additional visitors.
Plant and seed exchanges are easy to organise as many amateur gardeners usually have cuttings to give away.
Fundraising is usually easier to organise than you may think. Statutory bodies may offer grants. It is advisable to do your research well in advance.
As regards targeted publicity, a personal approach works best in our experience. Distribute handouts locally, use social media and websites of civic organisations, place illustrated features in local papers, etc.
Each Flower Counts!
Our Example in the South of Nuremberg
In March 2020, shortly before the Corona crisis we organised an event in the Southern district of Nuremberg in association with Bund Naturschutz (the German section of Friends of the Earth International), Einkorn association (small local non-commercial eco initiative), AWO (workers' welfare organisation) and a great number of volunteers. In a convivial atmosphere visitors were able to experience a stimulating mixture of historic information and practical advice. In these still rather green southern districts there are many private gardens as well as brownfield sites which can easily be transformed.
Margot Lölhöffel took on the role of Maria Sibylla Merian during an animated "interview". Many fellow citizens did not know that this famous researcher, artist and book illustrator lived with her family in Nuremberg for some time where she tended her small garden and kept many insects and caterpillars in her home. Margot also provided an insight into Maria Sibylla Merian's everyday life: her chances for developing their own individual potential in Nuremberg, "a city of gardens" at that time, her ability to assert herself as a sometime single parent and a female artist, and her extensive travels through Suriname at the end of the 17th century.
For a number of years our historic patron has been representing a regional project alliance whose aim is the promotion of urban rewilding initiatives. At the public event on 20th March 2020, detailed information was available about some of these initiatives, eg the City of Nuremberg's "InsektenReich" (Insect-Kingdom) project, or the "Sandachse" (Sand-dunes Nature Reserve) partly maintained by BUND Naturschutz. In addition, there was a "Herbs and Wild Plants Swap Shop", and visitors were given ideas for domestic gardens under the theme of "New ideals of beauty – authentic and wild instead of decorative and exotic."
In his presentation, Stefan Mümmler, a renowned environmental educationist and insect expert, provided some practical advice. Here is a short summary:
Only very few insects have to rely on "bee hotels". It is more important to provide open ground and a suitable selection of plants. For example, many butterflies have specific needs, that is to say that they need several specific plants for their development: for laying eggs, to feed the caterpillars, and to provide nectar for the hatched butterflies.
It is important to provide variety of flower species. Chose native wild herbs suitable to particular soils and climates, e.g. simple, open-shaped varieties which are suitable for the poor soil found in the Southern part of Nuremberg, to which no organic matter has been added. If commercially available seed mixtures are used it is important to check the varieties and their suitability for different light conditions (full sun, partial shade).
Wild hedges and trees with many blossoms (fruit trees, willow, hawthorn) are very beneficial.
Don't forget to add early flowering plants: provide plenty of spring flowering bulbs, winter aconite, and allow early wild herbs (formerly called "weeds") to spread.
Leave some perennial shrubs and nettles after flowering over the winter season.
"Insect hotels" only work if they are protected from the weather, are easily accessible, and South facing. Holes drilled into wood may have to be smoothed with a file to prevent injuries to insects. It may also be necessary to use wire mesh as a protection from greedy birds.
You can also hang up horizontally bundles of reeds (or other hollow plant stems, or commercially available small cardboard tubes) with a diameter of 2-9mm and cut to a suitable length. Eggs are usually deposited one behind the other.
Provide water in a large bowl or basin and top up regularly.
On sandy areas you can provide open ground for mining bees, or leave bare soil under large trees in your garden.
Deadwood (especially oak) should be left to rot down to provide a "nursery" for insects.
Piles of stones provide hiding places and a winter habitat.
Many of the above suggestions are suitable for small spaces, e.g. balconies. Herbs are easy to grow in pots and planters and help create symbolic and actual green axis.
Last but not least, the mystery of the "Merianin Cake" was solved at the cake buffet. In her acclaimed book about insects in Suriname, Maria Sibylla Merian describes the taste of pineapple, unknown at the time in Europe: "This fruit tastes like a mixture of grapes, apricots, black currants, apples and pears. The taste is delightful and strong. Once it has been cut its scent fills the entire room." Margot Lölhöffel used these 5 types of fruit to create a tasty cake which she offered to the visitors.
So why not invite your neighbourhood to hands on campaigns and activities? We look forward to receive photographs and reports about your own events on the topics described above.
Monika Krumbach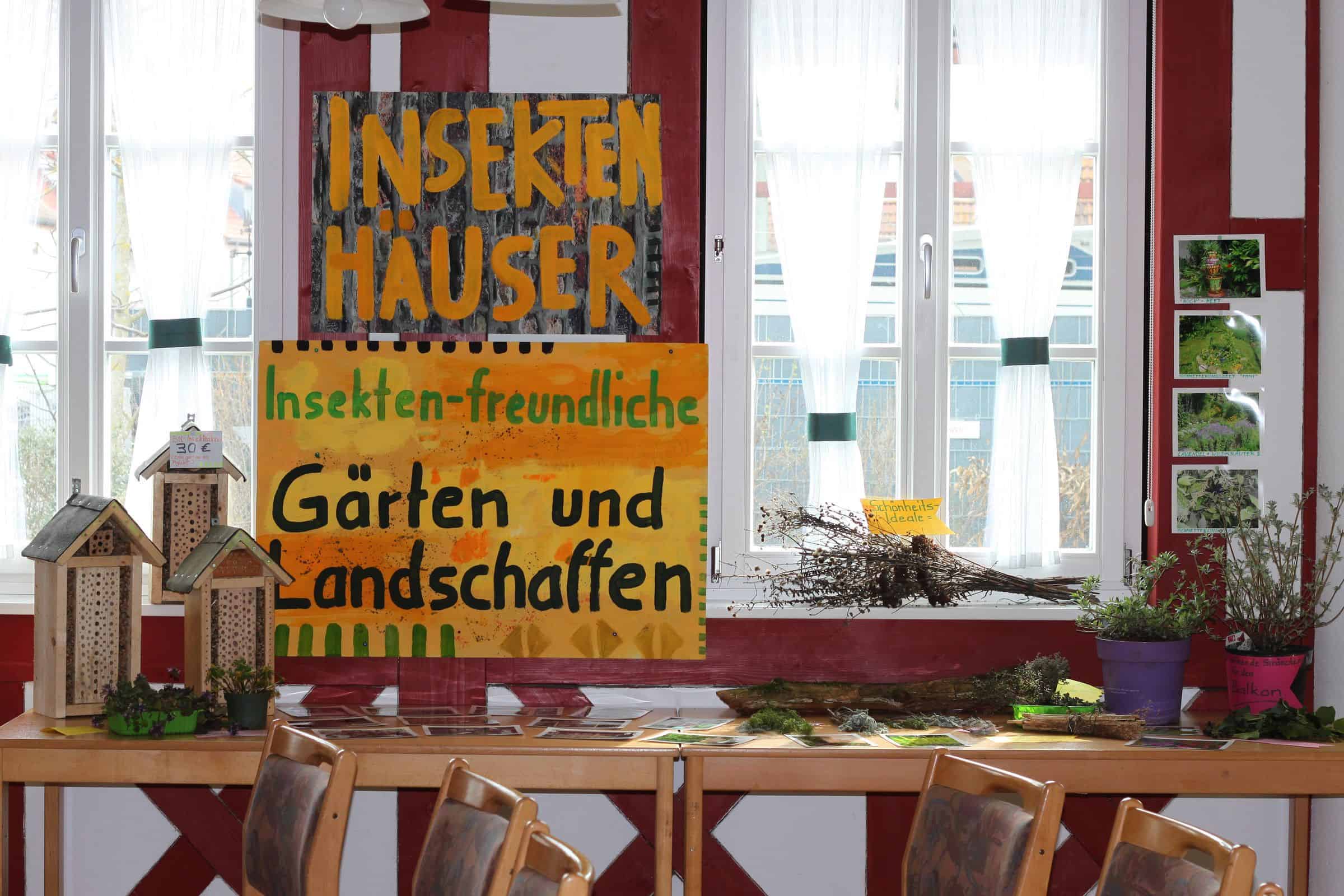 Insect houses - large and small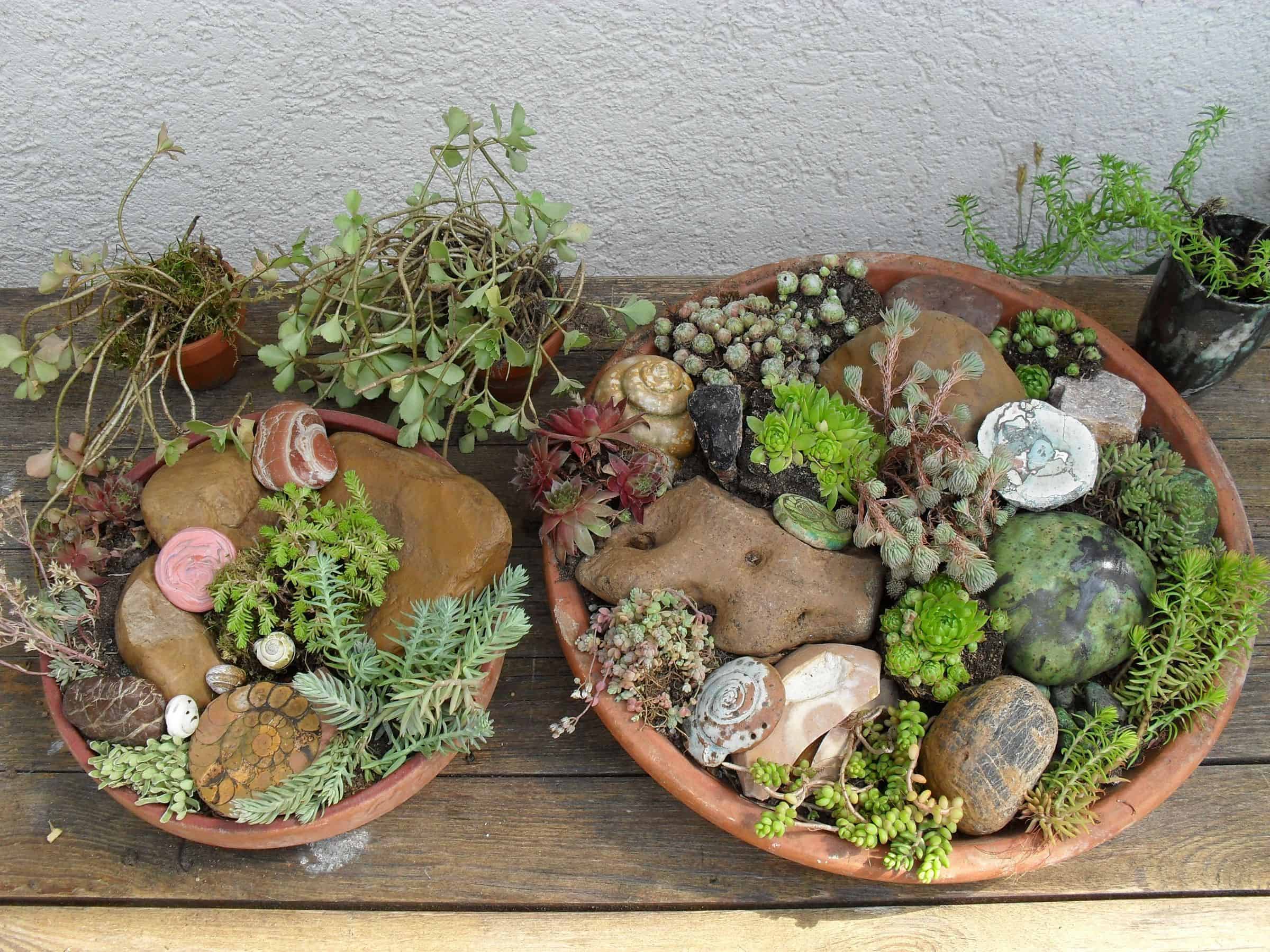 Example worth imitating: shallow bowls with insect-friendly houseleek and wall pepper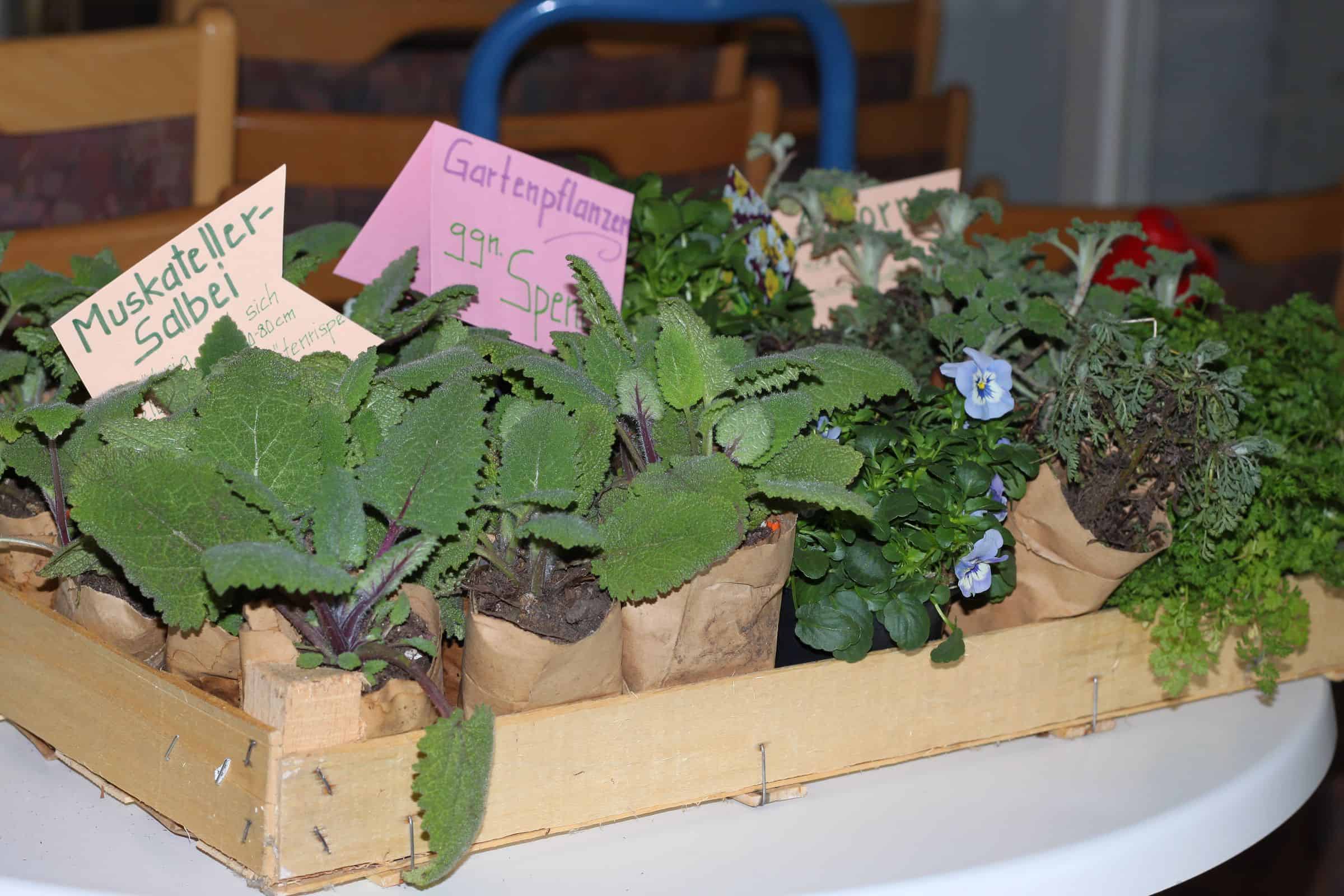 Insect-friendly plants to take home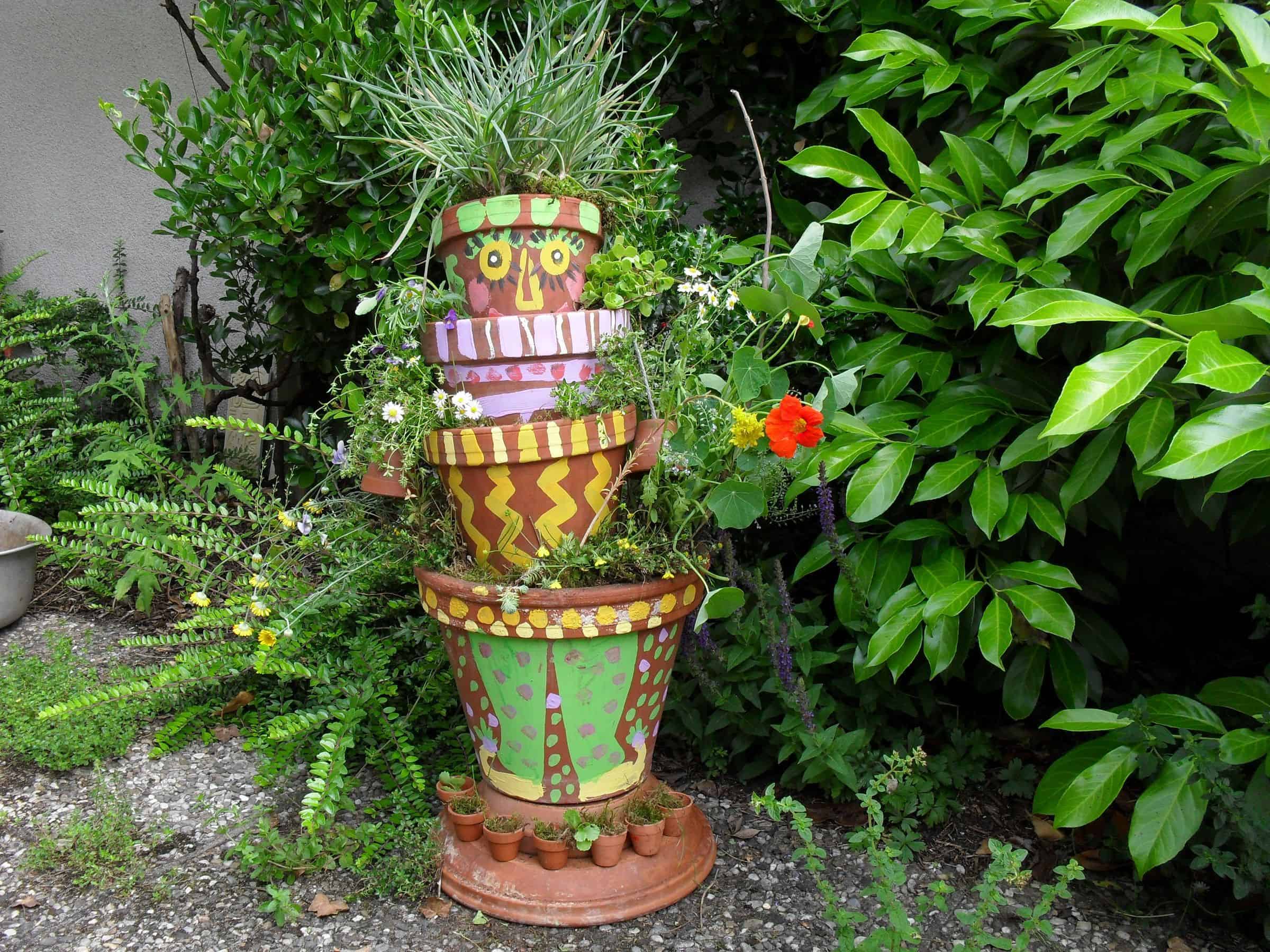 Nice project for younger children: "raised-bed" made of old flower pots, painted with acrylic paint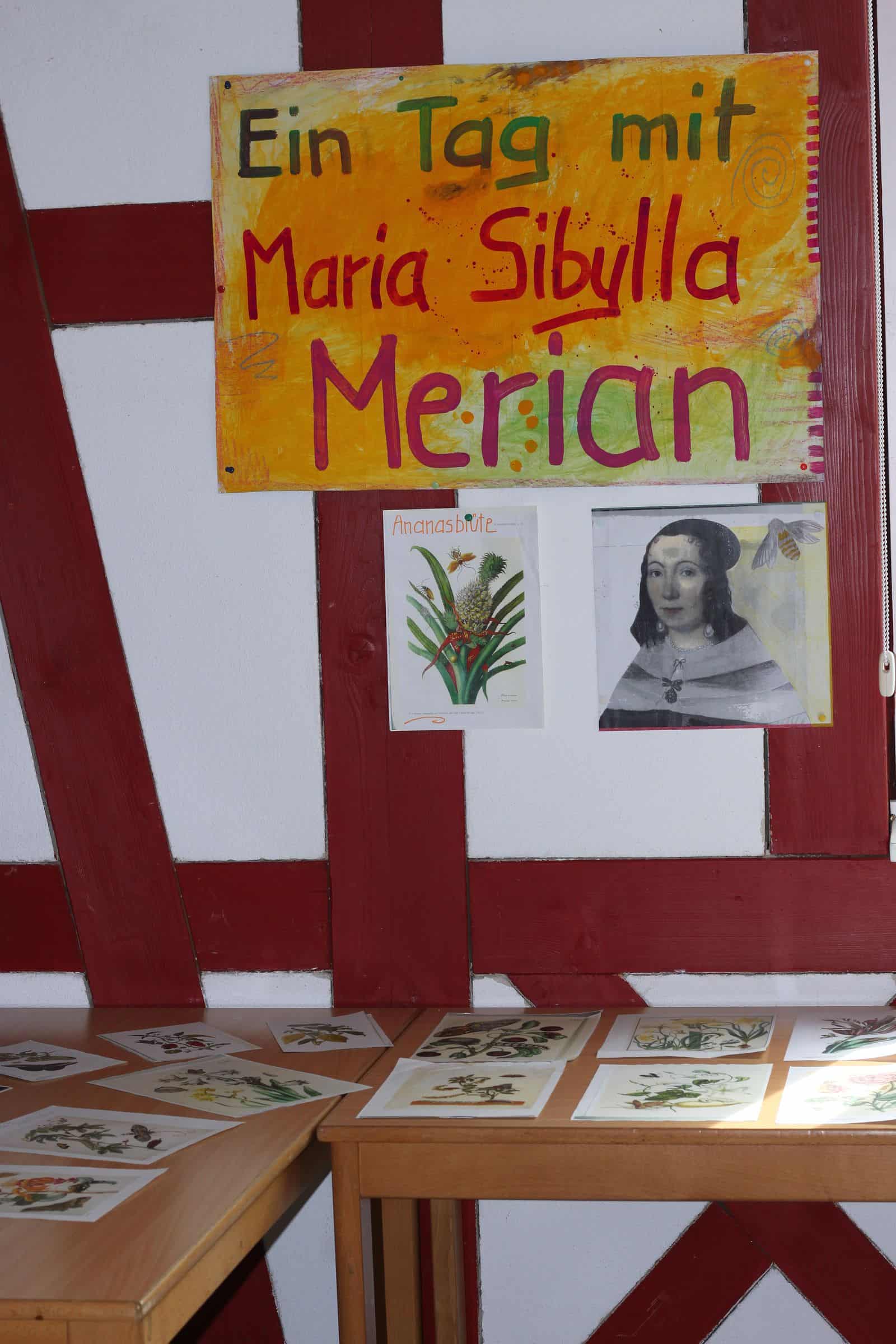 Children's corner for colouring drawings
Consultation and Networking
Professionals and non-professionals hand in hand
Quotation from the website of "Palmengarten" in Frankfurt (public palm and botanic garden): "In recent decades, the number of flying insects in Germany has declined by 70 percent. Climate change, intensification of agriculture, construction and sealing of habitats - all this is destroying the insects' livelihood." (1)
It is of particular concern that this decline is also connected to the dramatic extinction of entire species. This already crucial loss cannot solely be stopped with new agricultural regulation. Densely populated areas must also be naturally restructured and restored.
In its attractive "Flower and Insect House" the Frankfurt Palm Garden provides not only a wealth of illustrative material about the ecological relevance of insects, but also flyers in German and English with information on how to improve their natural habitats. The nature-oriented design of all gardens and even every balcony is important.
With the consent of the Frankfurt Palm Garden, two links to these leaflets are available here. It is to be hoped that these attractive handouts will also inspire authorities in other cities to offer similar consulting services. This is particularly desirable for Nuremberg with respect to its preparations for the "Landesgartenschau 2030" (Bavarian State Garden Exhibition).